Technical Details – the companion volume to Catalog 34 – is here and

FREE

for the asking.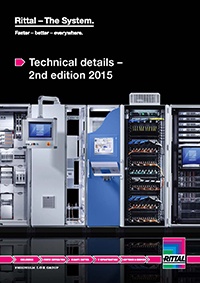 The second edition of Technical Details, released in 2015, is the perfect additional volume for understanding all of Rittal's products and systems for industrial and IT environments.
From enclosures and IT infrastructure to power distribution, climate control and various accessories, this new catalog is chock-full of diagrams, illustrations, size specs and instructions on putting Rittal's offerings to work in your facilities. And we did mention that it's free. Learn more on:
System accessories for human/machine interface, doors and locks, baying systems, bases and plinths and more for IT infrastructure essentials like Rittal's Power Distribution Unit International, IT enclosure systems and IT security solutions
Details on Rittal climate control products using ambient air, water and heat generation
Power distribution information on the related currents of busbars, short-circuit withstand strengths, R14Power ISV distribution enclosures and more
Enclosure details on console systems, PC enclosure systems, industrial workstations, support arms, hyglenic design and much more
More than 250 pages of prime Rittal facts and figures for engineers, managers, designers, administrators, buyers and operators can be yours with a quick form completion. Get yours today!