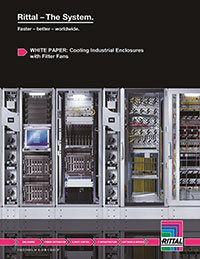 Filter fans offer a breezy solution for cooling industrial enclosures
As electronic components get smaller and more densely packed into enclosures, systems are becoming increasingly sensitive to external factors including dust, oil, and temperature. Heat in particular is a fatal enemy of sensitive electronics. In order to protect the proper functioning of electronic components, this heat must be dissipated. This white paper focuses on cooling with filter fans, demonstrating why it may be beneficial to choose a fan over other climate control options.
Learn when to use filter fans based on ambient temperature in your facility
Discover why filter fans are the simplest and most cost-effective cooling choice
Gain understanding on the value of filters for increasing the efficacy of enclosures that protect your electronics
Become familiar with surface area, air flow, and the use of multiple fans in the same enclosure for increased temperature control success
Become a member of the Rittal Fan Club today and keep your valuable electronics cool and clean.