CONSUMER INSIGHT REPORT
How a Global Pandemic Changed Consumer Attitudes About Food Plant Safety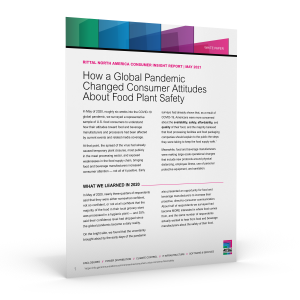 We surveyed U.S. food consumers twice — first in May of 2020 and again in March of 2021 — to understand how their attitudes toward food producers may have been impacted by the COVID-19 pandemic. Our new consumer insight report offers a detailed look at how consumers feel about sanitation protocols and procedures in food production facilities and what accounts for these attitudes.
In this report, you'll also learn about:
Current state of U.S. food and beverage production
Trends in the thinking of U.S. food consumers
Strategies for putting our data to use
Our research methodology and information about Rittal North America
Download How a Global Pandemic Changed Consumer Attitudes About Food Plant Safety to better understand trends in consumer thought and get actionable steps on how to effectively communicate with consumers about your safety practices to strengthen your brand awareness.