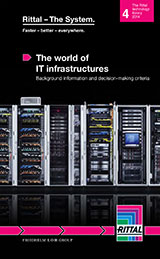 Start your IT data center of the future with our FREE handbook on IT Enclosure Design
As Big Data becomes Huge Data, selecting the right IT enclosure will help accelerate your move to the next generation of data centers. From power distribution and cooling solutions in enclosures to understanding enclosure modular design, Rittal's FREE handbook helps readers connect their plans of the future with what type of enclosure systems will support their Big Data plans.
Learn the basic principles for IT infrastructures
Build your awareness on system components for IT infrastructure
Meet our many solutions for IT infrastructures
Discover the revolutionary RiMatrix S – the first standardized data center as a turnkey infrastructure solution
Build understanding even as you build your better IT infrastructure the smart way – with Rittal.