It's time to make a change for the better.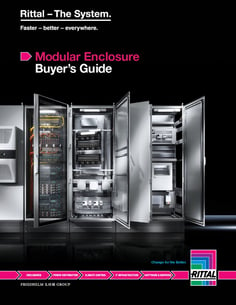 Download the Modular Enclosure Buyer's Guide, we'll show you the advantages offered by modular enclosures and the true costs of these solutions.
Modular enclosures provide the protection required for industrial drives, controls and other equip­ment along with the practical flexibility to evolve with the changing demands of modern business—all while saving time and money over the course of their lifecycles.
In this buyer's guide, you will learn:
Differences between modular and unibody enclosures

Common modular enclosure misperceptions

Rittal TS 8 Modular Enclosure features and benefits

The journey of an enclosure and their true costs