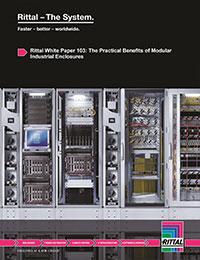 Upgrade your facility through the benefits of modular enclosures
Modular freestanding enclosures like the TS 8 offer a number of important practical advantages when compared to traditional unibody enclosures. These advantages are often overlooked due to false perceptions of increased enclosure costs or lack of awareness on the true benefits of modular designs. Become well-versed in the strengths and efficiencies of today's modular enclosure technologies in this enlightening, free white paper from Rittal.
Learn about the infinite configurations possible with modular enclosures like the TS 8
Discover how removable doors, sidewalls and more grant greater access for easy instrument installation and more accurate modifications
Gain understanding on the winning ROI achieved with modular enclosures versus traditional unibody enclosures
Realize the aesthetic value of modular enclosures for today's shop floor or facility
Use 21st century design, materials and innovations to your company's advantage. Download Rittal's free white paper on modular enclosure benefits today.