PUTTING IT ALL TOGETHER
An Interactive Guide for Assembling and Installing Modular Enclosures
An all-too-common misconception about modular enclosures is that they are like an erector set in that they require many parts, specialized tools, and large amounts of time and resources to deploy on the factory floor. The truth, however, is modern modular enclosures actually make the job of an assembler or installer much simpler.
This guide — complete with 10 how-to videos — examines how interchangeable parts and panels, compatibility with standardized tools, and simplified BOMs make enclosure assembly and installation easier than ever.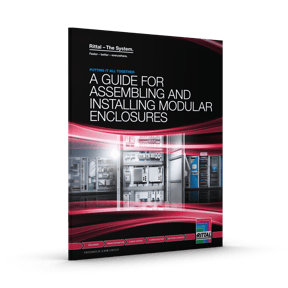 Download to learn more about:
Enclosure door removal or reversal for on-floor customization or mobility
Wall partition installation for more flexible configurations inside the cabinet
Mounting plate installation without the need for special tooling
Download A Guide for Assembling and Installing Modular Enclosures to discover the value of modular thinking.